Ross Chastain of Trackhouse Racing returns to the second venue this season where he won a race in 2022. It's the ever-exciting, often-frightening, white knuckle, edge-of-your-seat thrill ride known as Talladega Superspeedway.
It's 2.66-miles of restrictor-plate, high-banked action where the winner is often in doubt until the checkered flag waves.
That was the case with Chastain's dramatic duel with Kyle Larson of Hendrick Motorsports and a slew of other NASCAR Cup Series competitors in last year's Spring race at Talladega.
Chastain took the lead about 500 feet from the checkered flag and won the race by about one car-length.
That 500 feet was the only distance his No. 1 MOOSE Fraternity Chevrolet was in front the entire race.
"It was so cool to get the MOOSE Fraternity Chevrolet into victory lane," Chastain recalled. "To see how excited everyone was, and we had MOOSE guests and representatives there in victory lane, those are the moments you remember. The excitement on everyone's faces is really cool."
He celebrated the dramatic victory in true Chastain style – by smashing a watermelon at the start/finish line as he climbed out of the car to the cheers of the crowd.
One month earlier, Chastain gave Trackhouse its first win when he was the victor at Circuit of the Americas (COTA) in Austin, Texas. That victory came on a Formula One road course that is home to the United States Grand Prix.
His victory at Talladega Superspeedway, however, came on one of NASCAR's most iconic tracks, one that is filled with finishes that look like they came straight out of a super hero action movie.
One year later, Chastain returns to Talladega as one of the NASCAR Cup Series biggest stars. He is second in points, just five points behind the leader, Christopher Bell of Joe Gibbs Racing.
A look at Chastain's timeline shows just how far he has come in such a short time at Trackhouse.
"I don't really think a whole lot about the timelines and things like that," said the driver from Alva, Florida. "I'm so far ahead of where I ever thought I would be in my career, and this sport. I don't get caught up in the timelines. I just wake up every day and try and put forth the effort to be the best racecar driver I can be.
"I have a lot of support from Trackhouse, and Chevrolet and I certainly work on my race craft, but I don't focus a lot on timelines."
Chastain and his Trackhouse crew realize races at Talladega and Daytona require a great deal of good fortune in addition to the power of the race car and the strategy.
In the NASCAR Cup Series, they call Daytona and Talladega "Wild Cards."
Every driver in the field wants to make sure they don't end up drawing the "Joker" of the deck.
"Superspeedways are such wild cards, and we see that time and time again," Chastain recalled. "In the April race last year, I just happened to be in the right place at the right time. I held the wheel straight and people wrecked around me, and we won the race. That doesn't always happen at superspeedway tracks though.
"You have so many things out of your control that you have to have a little bit of luck at them."
While Chastain will hope to tame Talladega in Sunday's Geico 500, which can be seen on FOX at 3 p.m. Eastern Time, there is quite a backstory to how Trackhouse set the table before last year's victory.
The table was set, and Chastain delivered the feast.
"To paint the picture of the day, you really have to understand everything that was going on before the race started," Trackhouse President Ty Norris recalled. "Before the race started, we had a press conference with the president of Worldwide Express, Rob Rose, and announced a very significant sponsorship for the next two years with Worldwide Express.
"That was a huge moment for Trackhouse because entered the 2022 season with only one-third of Ross's races sold. Worldwide Express stepping up was a really, really big moment.
"We announced it at Talladega that morning.
"At the same time, it was MOOSE Fraternities first race with us and the first race we ever ran as Trackhouse. We had some anxiety the Worldwide Express press conference was going to overshadow MOOSE's first primary race."
Scott Hart, the CEO of MOOSE, was very gracious to have Trackhouse introduce Worldwide Express that day. Trackhouse decided to have Hart on stage at the announcement.
Additionally, the team discovered a Ross Chastain fan who had been to every single race at Talladega since 1982 and wanted to meet Ross. Norris invited him to the press conference.
Pit Bull, co-owner of Trackhouse, also called and said his first tour manager since the beginning of his career was coming to Talladega, Alabama from Atlanta with some friends. Then, Steve Smith and the folks from Tootsie's, a sponsor for Trackhouse driver Daniel Suarez, rolled in with Kid Rock.
"All of this was happening race morning," Norris said. "It was unbelievable the whirlwind of activity that was happening at that race.
"With so much going on the business side, we were halfway through the first stage before I realized where we were in the race, and we hadn't been trashed yet.
"We ended up getting all of our guests into a suite and that suite was shared with some of Kyle Larson's best friends. We were going back and forth between the 1 (Chastain) and the 5 (Larson)."
The end of the race came down to Erik Jones leading the race over Larson. They got into each other and that cleared the way for Chastain to win the race.
"We had an absolutely epic Victory Lane," Norris said. "There were a couple of moments really, memorable for me.
"One was to be able in our first race with MOOSE and be so worried whether we were diluting their first race by making all of these announcements and to be in Victory Lane with Scott Hart was really, really special.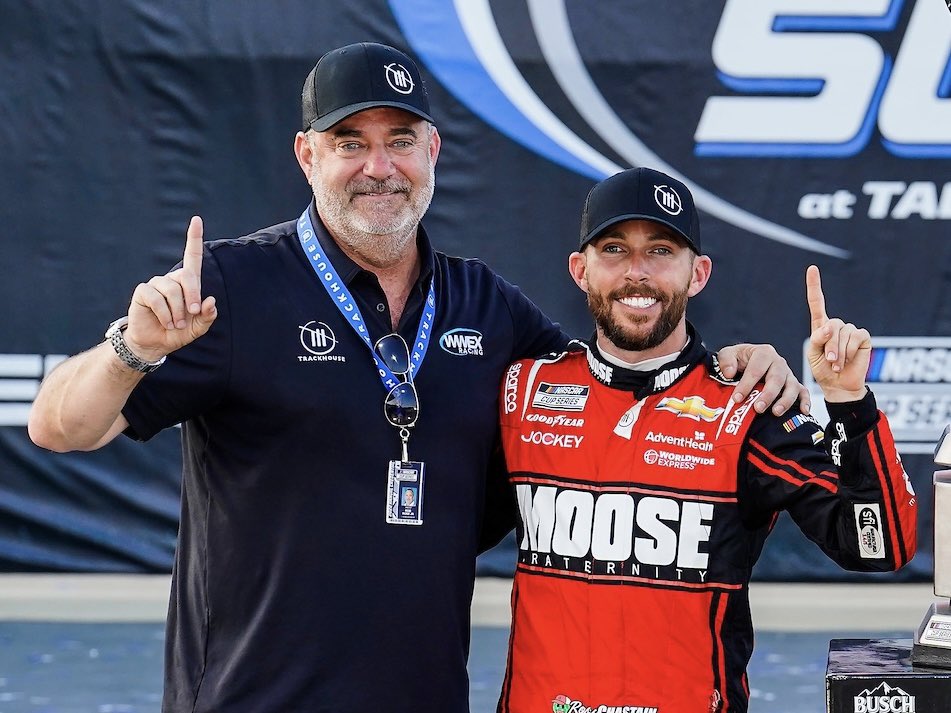 "After Rob Rose and the Worldwide Express guys announced they would be a partner of us for two years, a team they didn't know anything about a month earlier, and we are standing in Victory Lane together. That was really special."
Rose passed away six months after the announcement from a massive heart attack so that day remains special to Norris and Trackhouse.
"We had a lot of guests in Victory Lane, and it was fun with the 1 and 99 guys there," Norris continued. "What that win did for Trackhouse is we had won at COTA, had a great Spring, and then won at Talladega. We had won two of the last three or four races and finished in the top five six or seven times.
"It was a continuation of the Trackhouse story.
"If we had just won COTA and that is all we had won last year, we would have come across a little bit like 'One Hit Wonders.'
"What Talladega established was this organization is here to stay. It's here to stay from a business side. It's here to stay from an entertainment side. It's here to stay from a racing side.
"That is what Victory Lane at Talladega represented to us that day."
Norris believes there is multiple parts to the business and the racing team is part of it. But the real war happens in the boardroom for revenue, sponsorship support and partnerships.
"To win that business over everyone else in the garage and announce it that day and then win on the race track over everyone else in the garage was an amazing day for Trackhouse," Norris said. "It was a very, very strong statement that we can win in both areas."
It was also the classic example of how it doesn't matter how many laps a driver wins in the race; it only matters who is leading at the checkered flag.
That is the only lap that Chastain led, and he was in front by just about 500 feet of the 2.66-mile superspeedway.
"Superspeedway racing, every track we go, short track or otherwise, the intent is to be in position for the last 50 laps," Norris explained. "If you are third, fourth, fifth, sixth – if you are in that range, you are in the mix. Because there could be a caution or a strategy call and a great restart.
"You have to be in position to win a race. Regardless of how you get there, you have to be in position the last 10 percent of that race.
"At Talladega, you really have to be in position the last one percent of that race. Ross had worked himself into that spot where he was fifth or sixth two laps before that.
"He was going after a third-place finish and those two guys did what they did, blocked each other, slowed each other down and Ross didn't even turn the wheel. He kept going straight on the bottom, missed the fray, and to get to that last 500 feet, Ross had to work his ass off the last 20 laps to get in that lead lap to be there for an opportunity like that.
"It was really great work from him. You don't have to lead the most laps, you just have to lead the last inch and that is what he did."
Winning any race in NASCAR is a great achievement but winning at Daytona or Talladega get more attention because of the style of racing that happens on the iconic tracks.
Nobody understands that better than Norris.
When he was President of Dale Earnhardt, Inc., the team went through a stretch where it won eight of 11 superspeedway races and finished first and second in four of them.
"That stretch at Daytona and Talladega literally set the historical reputation of Dale Earnhardt, Inc.," Norris said. "When you talk about DEI and you talk about their on-track, you talk about superspeedway racing.
"Those races, Daytona, and Talladega are extraordinarily important to the resume of a company. We have won on road courses and speedways and have been in a lot of the mix for short tracks and intermediates.
"When you think of Sterling Marlin and Morgan-McClure Racing, you think of superspeedway racing. Same with Rickey Stenhouse. There are certain people and organizations that rise up in those superspeedway moments. Right now, Front Row, has a really good history at superspeedways.
"Those races are important because it shows your drivers are crafty, it shows your equipment is great. Any consistency at superspeedway racing really sets you apart.
"When you think of Daytona 500 qualifying, you think of one team – Hendrick Motorsports.
"It's nice to be in that conversation. If we continue to win in that particular style of racing, I think it's important for our organization to continue that.
"If we could win a couple more of those superspeedway races, maybe that moniker we held at DEI might start coming our way."
Last year, Chastain won at Talladega and Trackhouse teammate Daniel Suarez was leading the summer race at Daytona when it started to race and crashed. If they had called the race 500 feet sooner, Suarez may have won that race.
"I believe when our drivers go to these superspeedway races, they work well together, we have really fast cars, they make really good decisions, and our pit crews are absolutely amazing," Norris said. "I do back-flips every time a caution comes out because I know we are going to get a couple of spots because of the confidence I have in our pit crews.
"I have no reason to believe, other than circumstances and someone else's mistake, our drivers will be in that position to win again. Both of them do a great job and will be in that position again.
"A lot of things have to go right at these superspeedway races, but I think our guys are in really, really good equipment and in a really good mindset."
The momentum of 2022 has carried over to 2023 and that has Trackhouse as one of the top teams in the NASCAR Cup Series.
"I think we are right there," Norris said. "Bristol dirt was probably the worst result in Trackhouse history because we weren't that competitive, but as an organization we are super excited we have Talladega, Dover, Kansas, Darlington and Charlotte coming up because these races are in the Trackhouse wheelhouse."